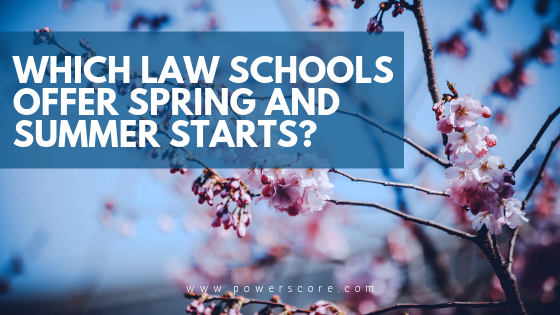 January and February is deadline season, which means that many law school applicants are getting all their ducks in a row and submitting their apps, eyes aglow at the thought of starting law school in the fall. But what if you're not one of them? You don't want to start this fall, but you don't want to wait until next fall to start. You're still glowing with the thought of starting law school, but you'd like to start in the Spring or Summer next year.
Fortunately for you, there are some law schools that offer spring and summer starts. Which ones are they?
A few things to keep in mind, particularly for schools with spring starts:
These schools typically have November or December deadlines for their spring-start applicants. The last LSAT they accept is the October administration (for the year prior to which you are applying for) or, in a few cases, the December LSAT. Make sure you schedule your test-prep plans accordingly.
Schools that offer spring-semester and summer starts also offer fall-semester starts. You will probably feel a little detached from your 1L fall-start classmates, which can take a little bit out of your overall law school experience.
Limiting yourself only to spring-start or summer start schools can limit your geographic options in choosing schools, in addition to limiting your employment options post-graduation. Make sure that, if you're considering a spring or summer start, you're doing so for reasons more than just a desire to get started quickly. While it can be gratifying to get started on your law school path, it will be even more gratifying to have plenty of academic and professional options once you're in law school.
Winter/Spring Start
Note: Some schools may not have their Spring/Summer applications available, but be patient and keep checking back. 
Summer Start
* Denotes a non-ABA-approved institution.
Are we missing any schools? If so, leave a comment or shoot us an email to let us know! Good luck with your applications!