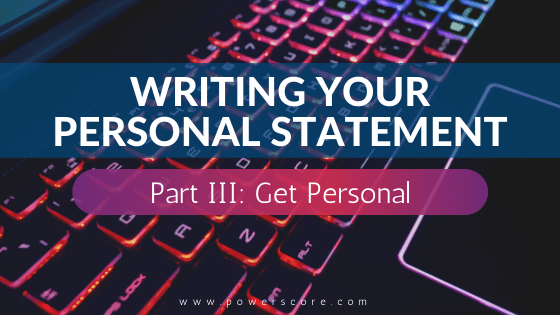 Although all components of a law school application are important, the most important one is the personal statement. To that end, this series explains some of the pivotal points you should keep in mind as you prepare to write your law school application personal statement. This is a 10-part series that will help get you from starting to finishing your personal statement.
Get Personal
In this third installment of our Writing Your Personal Statement series, we are going to talk about putting the person in personal statement. Scheduling the time to write and carefully planning your personal statement are highly important aspects that contribute to the success of your essay. However, it's almost a guarantee that the statement will be a flop unless the most key ingredient is added to the mx: you.
To this concept, here's an anecdote about a law school applicant that wrote a very compelling essay. Their personal statement was about a man and his wife. They came to America from a foreign country with nothing, built up a business from scratch, provided for their children by giving them everything they themselves lacked, and achieved everything they came to this country for. It was a touching story, beautifully written, and marvelously executed. So, this amounts to a compelling and certainly memorable personal statement, right? A shining example of what your essay should be! Actually, no. In the end, we advised this applicant to discard this powerful essay and start fresh. Why? Because the story was of his grandfather and grandmother. The applicant didn't even make an appearance until the very last sentence.
While compelling, it was absolutely impersonal. A single line stating that they "want to carve out a path just like their grandfather" is not a story about them. An admissions committee would read a story like that and know nothing of the applicant. You don't want to end up in the same scenario.
Don't Waste Your Essay
This cautionary tale tells you one thing. Do not waste your personal statement. In the first installment of this series, we explain that your personal statement is essentially an interview with the Admissions Committee. Imagine you're sitting with the Dean of Admissions at your dream school, telling them all about why you want to go to law school. Would you talk about your grandfather, mother, or best friend? Would you tell them all about your favorite book or movie? Or, would you want to shine a bright spotlight on everything that makes you perfect for their law school. You need to convince them why they should admit you, not a relative or a friend. Your story should include personal anecdotes, not fun factoids about your favorite book or movie.
Purpose
The whole intention of this essay is to tell the Admissions Committee something about you that they can't determine from  your resume, transcript, or LSAT score. Give them something that broadens their understanding of you as a personal, a potential attorney! Give them something that compels them to put you in the "admit" pile and hopefully the "admit with scholarship" section.
Just as you must not underestimate the power of the personal statement, don't underestimate the power of your own story. Everyone may not have a compelling or exact reason for attending law school, but everyone has an interesting story to tell. It may not seem that interesting to you, but it will be interesting to those that have never heard it before. Get over the awkward feeling you get when you have to talk about yourself, and find those personal anecdotes that will make you stand out.
After all, you're only as unique as you let yourself be, and you will only be unique if you talk about yourself. The admissions committee wants to admit you. Just you. Don't disappoint them by talking about anyone else.
Read More in This Series
Get Personal (You Are Here)
Get Specific
Embrace Variety
Step Away
Edit
Involve Others
Proof
Don't Be Afraid
Subscribe to the blog to get notifications when we post new content!