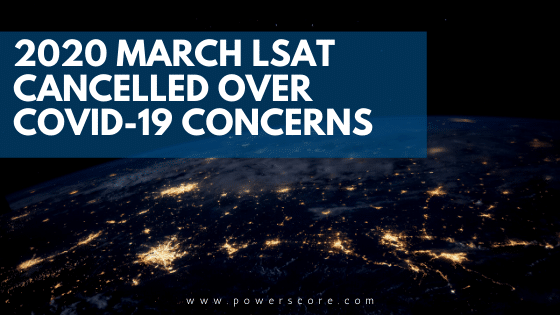 Amid growing concerns regarding the coronavirus disease (COVID-19), LSAC announced its plan to cancel the March 2020 LSAT this afternoon. LSAC has not made a final decision about the April exam but will release updates as they monitor the situation. Below you can find the full statement from Erik Krajnikovich, Director of Data and Applications at LSAC.
Official Statement from LSAC
All of us at LSAC are saddened by the COVID-19 outbreaks affecting so many countries and communities around the world. Our hearts go out to all of the individuals, families, and communities that have been affected. We are working with global, national, and local officials to comply with local health directives and guidance, while striving to address the needs of test takers and schools.
Due to the growing COVID-19 emergency, LSAC has made the difficult decision to cancel the March LSAT administration worldwide, consistent with the advice of public health authorities. Candidates will be rescheduled for the next test administration in their area and offered additional scheduling options should public health authorities continue to limit travel and in-person interactions later this spring. LSAC is working closely with its member law schools to help assure a smooth enrollment process for candidates who may still be planning to apply for fall 2020 admission.
Cancelling the March test is a difficult step, but we believe it is the most responsible course of action to protect test takers, testing personnel, and the broader community in a fair and equitable manner that does not result in disparities in access to testing for vulnerable populations or candidates from different regions. As you know, public health authorities are urging (and increasingly mandating) immediate proactive steps by businesses, organizations, and individuals to limit travel and interactions to slow the spread of the disease and help our health care systems keep pace with demand that could otherwise be overwhelming.
We are taking swift action to try to ease the impact of this cancellation and to support all law school candidates during this crisis. We know the candidates you advise may have many questions, so I want to let you know what we are doing, including the following steps:
All March registrants in the U.S., Canada, Puerto Rico, and the U.S. Virgin Islands have been automatically registered for the April 25 test in the community where they were registered for the March test. All March registrants in other regions have been automatically registered for the June test in their locations. We know that with widespread university closures, travel restrictions, and other disruptions caused by this crisis that some candidates may wish to change locations. Our staff are available and eager to help; candidates who prefer a different date or location, or any other change, should please contact our Candidate Services team at LSACinfo@LSAC.org or 215.968.1001.
While none of us can predict how the COVID-19 virus situation will evolve, we are hopeful that the April and June tests will be able to go forward as planned. We will continuously monitor the situation and provide updates as necessary.
Given the uncertainty of this evolving crisis, we are also aggressively exploring options to administer the LSAT in alternative ways that will best protect the health and well-being of test takers and the broader community. These alternatives could include secure remote-proctored tests, an additional spring/summer administration, and other options that would meet evolving public health guidelines.
We are working with our member law schools that are still accepting applications for fall 2020 enrollment to help expand flexibility on deadlines for their candidates. We applaud our member schools' support of candidates and are confident that our admission community will continue to respond to this crisis with compassion and agility. We are also supporting our member schools as they move from in-person to on-line support of admitted candidates as the enrollment cycle for fall 2020 concludes.
Thank you for your support, and the support you provide to students and candidates. Please don't hesitate to reach out if you have questions.
Erik Krajnikovich
Director of Data and Applications
Law School Admission Council
Additional Resources
You can find the full press release on LSAC's website. This landing page addresses any other questions you may have regarding the virus and how it will affect the LSAT. For more information on how to protect yourself from the virus, please visit the CDC's website.