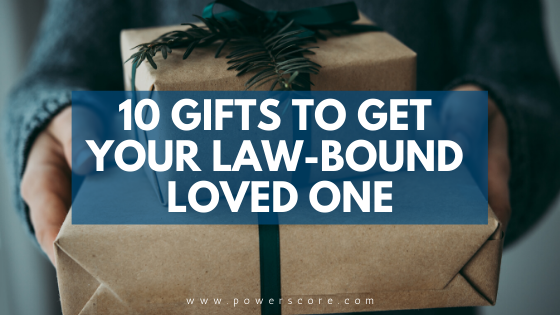 Everyone loves a good pick-me-up, especially while in the throes of stressful college life and finals. For Law School bound students, the looming inevitability of taking the LSAT is likely heavy on their minds. An occasional reminder that they've "got this" is always appreciated! With the right tools and mindset, they'll crush the LSAT and get into a great Law School.
We've put together the Ultimate LSAT Care Package List to help you give the future lawyer in your life a boost to help them succeed. Check it out!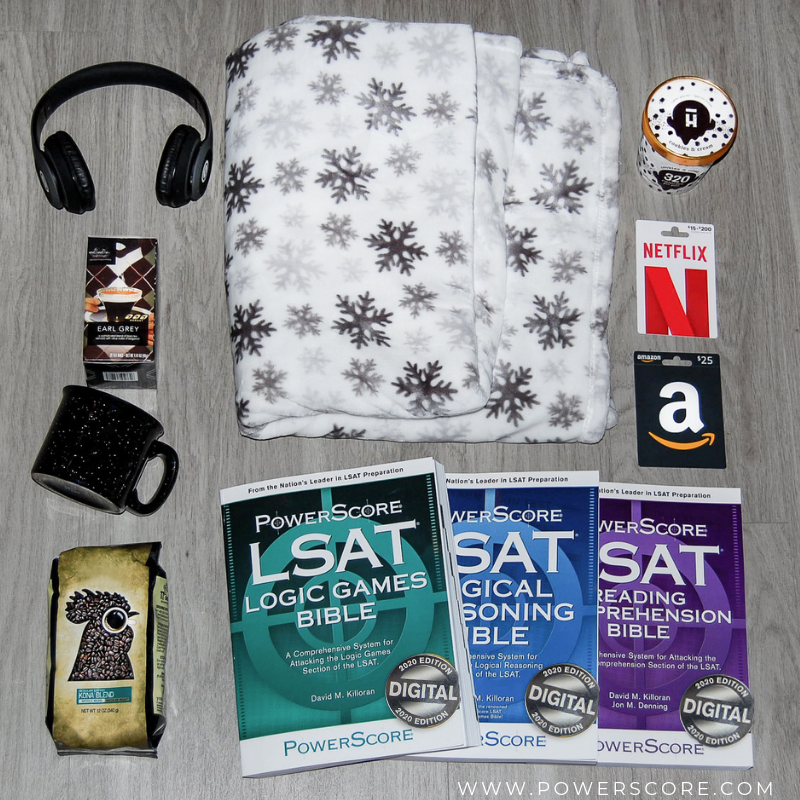 1. Tea or Coffee
A cup always seems to warm you to the core and give you some energy, it's an excellent reminder to take a deep breath and let out all the stress.
Keeping the body energized with snacks is a foolproof way of making your brain work a little harder on the task at hand. Bonus! Pull some dad-joke puns and get a laugh out of them… or at least a good eye roll. Either way, it'll take their mind off the LSAT for a second!
3. PowerScore Prep Course
Want to really knock their socks off? Get them a Prep Course from us! We do most of the care package work for you with the starter kit that is delivered after enrollment in a course. The Live Online version of the course allows for interaction with not one, but two instructors in real time. They'll have access to a live feed of questions from classmates, 45 full LSAT tests, 36 hours of class time, and an additional 55 hours of material available online!
4. A Cozy Blanket
Not there to give your future lawyer a big hug to let them know everything will be okay? A warm and fuzzy blanket is the next best thing. Weighted blankets are an extra comforting option to consider. Bonus if you spritz the blanket with a stress-relieving essential oil like lavender!
5. Noise Cancelling Headphones
The best way to tune out the world to try to relax is to literally tune out the world with noise-canceling headphones. Most brands carry ones that also play music. Make a playlist including relaxing piano, white noise, or comforting sounds to go along with it.
6. Netflix
It seems like everyone and their dog has Netflix… So why not pay for a few months of their subscription? Binge-watching a show is an excellent way to take a break from studying.
Okay, so we had to do another plug for some of the things we offer, but we promise it'll be a great investment. Coming in at a steal for $144.99, the PowerScore LSAT Bible Trilogy is the ultimate self-preparation tool. It includes our Bibles on Reading Comprehension, Logic Games, and Logical Reasoning. Together, they are designed to build a foundation for approaching each section of the LSAT. We offer free study plans that fit a number of different impending LSAT test timelines–whether they're taking the LSAT in a month or 12 months from now, there's an option for your law-bound loved one.
8. Pay for Their LSAT Registration Fee and/or LSAC Prep Plus
Thinking about taking the LSAT is cumbersome enough, having to pay $200 to take the test is the stress-cherry on top. Let them use that $$ toward something else, like a watch to keep time while taking practice tests, new earbuds to listen to a cool new podcast… or our Self-Study Trilogy. Another option is the gift of the LSAC Prep Plus subscription! A year's access costs $99. It comes with a slew of released LSATs and also the license to view real tests through another company. Most courses require it and it provides a ton of Practice Tests to work through.
9. A Year's Access to the PowerScore Testing & Analytics Package
To piggyback off the LSAC Prep Plus Subscription, you can upgrade your law-bound loved one's PT game by gifting a year's access to our Testing & Analytics package! It provides additional tests that don't come with the Prep Plus subscription as well as the flexibility of taking the tests in different ways including Flex versions, individual sections, and problem sets. To sweeten the pot even more, after finishing a test, users get a comprehensive breakdown of your score. This provides in-depth insight into a test-takers strengths and weaknesses.
10. Amazon Gift Card
Still not sure you know exactly what to get them? Let them decide with a gift card from Amazon! They have practically everything–including pretty much everything on this list, even some of our materials!