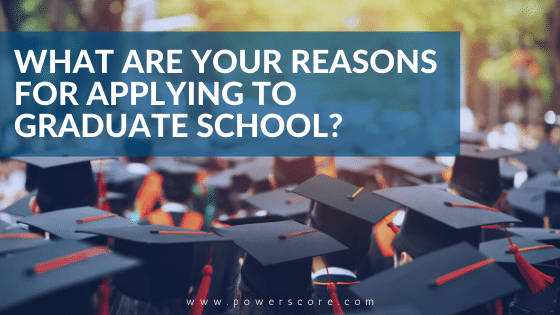 There are many reasons you might be considering graduate school. Some of them are downright bad reasons. Two of the most common good ones are:
You need a graduate degree to enter or further the career you want or current career.

Candidates entering your career path with a graduate degree will enter at a higher position or salary level.
Many consider pursuing graduate-level studies as a way to further explore academic interests from their undergraduate years, or as a part of the process of finding the ideal career path. It is helpful, however, to have a clear goal in mind when deciding whether to go back to graduate school. Don't apply to graduate school simple because you feel an obligation to go or because you're unsure of your next step in life.
Questions to Ask
Ask yourself these questions before you begin the grad application process:
What specific career goal(s) will be furthered by enrolling in graduate study?

How dedicated am I to the career that I will be working towards, and/or to the academic work I will be pursuing, if I go to graduate school?

What educational level do I need/want to attain – Master's, Ph.D.?

Am I looking for a traditional program or a part-time program that will allow me to continue working?

How important is it to receive a degree from a prestigious program or institution?

Am I willing to relocate to attend graduate school?

How will I fund my education?

How long will my degree take to complete?
You should research programs in your field to find out which are the most highly regarded, and what opportunities particular programs will offer; the "big name" school programs may not offer what you are looking for. When deciding where to apply, consider your own strengths and weaknesses as an applicant for a reasonable assessment of where you are likely to be accepted. Talking to undergraduate professors or professional colleagues who know you (and your chosen field) well is a great place to start for this kind of assessment. It will also be important to line up letters of recommendation from professors or supervisors who know you well.
Grad School Admissions Guide
A great place to start the process is our Grad School Admissions Series, which will give you information on the different parts of the process. In addition, make sure to check out my Gearing Up for Grad School series, which will walk you through the entire process and all it's elements in a step-by-step, clear way: