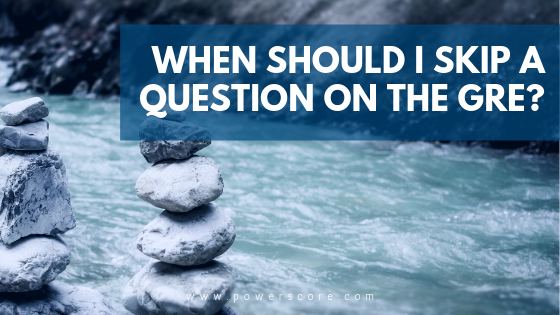 Taking the GRE is no small feat and it's easy to get caught up in a difficult question when you're taking the GRE. ETS, maker of the GRE, knows this! They don't present questions in order of difficulty, but rather intersperse them throughout the test. Even if test makers did want to put questions in order of difficulty, everyone has their own strengths and weaknesses. "Difficulty" doesn't universally apply. Should you skip a question on the GRE? Can you skip a question? You sure can! It might even be in your best interest to adopt skipping questions as a a strategy.
Strategic Skipping
Questions that are challenging for you will likely show up randomly. When you encounter one, skip it! You can usually make an informed decision about your likelihood of answering a question correctly quickly. Read the first line or two of a question, analyze the concepts involved, and go from there. If you think it's too much of a doozy, move on. The more quickly you skip over any question that looks like it'll be annoying, the better off you'll be. It allows you a greater chance of answering all the questions you're likely going to get correct!
Now Go Back
With any time you have remaining in a section, go back to the questions you skipped! There is no reason to get stuck on a difficult question when you could be breezing through more straightforward questions. You can always try out this method by taking practice sections. Get in the habit of skipping initially confusing questions and come back to them later. You should notice not only a greater sense of comfort with the test, but a higher score as well!
So, when in doubt… go ahead and skip it! There's no penalty for skipping questions and you could see some real benefits.
Need more tips on how to tackle the GRE? Check out this post with some tips for success!