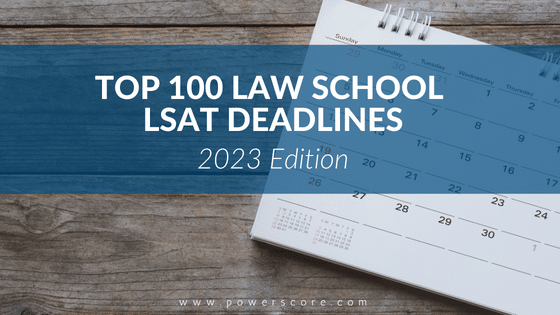 The LSAT you take—or retake—can have a great impact on your admission chances. Some of you may be asking, "Is the January LSAT too late? Are the February or April LSATs too late?" We survey top law schools yearly with those exact questions to find out admissions deadlines and the latest LSAT each school will accept.
Many of the top law schools are still requiring a January LSAT deadline. But, as you'll see in the chart below, the February and April LSATs are definitely viable options for test-takers. A quarter of the schools still allow for a June test result, however, they admit that they will not review your application until scores are in. Because of this, spots are limited or may not even exist at that time. If you need help with any part of your application, we've got expert admissions consultants you can work with!
Categories We Use
Rank: The rank for each school was drawn from the US News & World Report Best Law Schools 2023 rankings. We listed schools in numerical order by rank.
School Name: This one is obvious

—

this column identifies the name of the school! For this post, we stick to the top 100.
Application Deadline: The deadline is the date after which the school will not consider or review newly received applications. Having said that, several schools mentioned that the number of unfilled spaces affected how they view their "deadline" date. If they still have spaces available in their classes, they might accept applications after the deadline. The law schools we surveyed said chances of admissions are lowered once the deadline passes. Though unlikely, this certainly makes some of the deadlines less concrete.
Latest Acceptable Test Date: For some schools, this is a "strongly recommended". Schools that accept the June LSAT have been

highlighted

. To clarify, these schools will accept this test as the first and only LSAT you've taken.
Notes: To compile this list, we pulled data from US News, visited the schools' websites, and contacted a majority of the admissions offices on this list. In some cases, the admissions folks had additional thoughts or considerations about the deadline and latest LSAT they will accept, and we added those thoughts in this column.
Let's take a look at the list! If you have any questions or comments, please post below. If you plan to apply to any of these schools, we strongly encourage you to contact them directly to ask about their deadlines. We've seen deadlines change just in the last month, so let us know if you notice something we missed!
| 2022 Rank | Law School name | Application Deadline | Latest Acceptable LSAT | Accept the GRE? | Notes from the University | Difference from last cycle? |
| --- | --- | --- | --- | --- | --- | --- |
| 1 | Yale University | 2.15.2023 | Jan 2023 | Yes | Under our review process there is no advantage, in terms of the likelihood of admission, to applying earlier in the application cycle. | No |
| 2 | Stanford University | 2.15.2023 | Jan 2023 | Yes | | No |
| 3 | University of Chicago | 3.1.2023 | Jan 2023 | Yes | The Admissions Committee reads files in chronological order by application completion date and will not begin evaluating your applications until it is complete. We evaluate all completed Regular Decision applications and issue decisions on a rolling basis until all applications have recieved an initial decision. Because the Admissions Committee reads files in the order they are completed, it is in your best interest to apply early in the cycle, well in advance of the Mar 1 deadline. Although they will continue to accept and evaluate applications after the Mar 1 deadline and applicals taking accepted stardized tests after Mar 1 may still apply, space will be limited at that time (though, on occasion, we have accepted outstanding applicants into the summer). | No |
| 4 | Columbia University | 2.15.2023 | Jan 2023 | Yes | Apps evaluated on a rolling basis.Applications completed after the Feb 15 deadline will be considered on a case-by-case basis,but are not guaranteed a decision and may be withdrawn from consideration. | No |
| 4 | Harvard University | 2.20.2023 | Feb 2023 | Yes | | App deadline moved from 3/1 to 2/20 |
| 6 | University of Pennsylvania | 3.1.2023 | Jan 2023 | Yes, and GMAT | | Latest LSAT accepted was listed as Feb last cycle. |
| 7 | New York University | 2.15.2023 | Jan 2023 | Yes | | No |
| 8 | University of Virginia | 3.1.2023 | Feb 2023 | Yes, and GMAT | You should arrange to take and approved standardized test early, preferably by the autumn of the year you intend to apply, although later scores will be accepted. Applicants who subnmit scores in Jan,Feb, or March of the year they apply to law school may be at a disadvantage since seats may be filled. | App deadline moved from 3/3 to 3/1 |
| 9 | University of California - Berkeley | 2.15.2023 | Jan 2023 | Yes, and GMAT | In certain, limited circumstances, Berkeley Law will accept the Graduate Management Admission Test (GMAT) in place of the LSAT or GRE for admission to the J.D. Program. | No |
| 10 | University of Michigan - Ann Arbor | 2.28.2023 | Jan 2023 | No | The Law School uses a modified rolling admissions process, meaning that applications are reviewed as they are completed, but admissions decisions are not necessarily made in that order. Applicants are encouraged to apply and complete their files as early as they comfortably are able, because the later they wait in the application cycle, the fewer the seats that are available. *t's helpful to take the test early enough so that if something goes horribly wrong, you will have enough time to take it again prior to the admission season really heating up—that means that taking the test by November of the admissions season in which you are applying is the safest possible choice. Exams (later than January) place you at a bit of a disadvantage because the score will not be released until about the time of our application deadline. | No |
| 11 | Duke University | 2.15.2023 | Jan 2023 (see note) | Yes | Applications may be submitted after the deadline if space is available.Select a test date that provides sufficient time for thorough preparation, preferably so the score will be available by the February 15 application deadline. Later test dates will also be accepted. | No |
| 12 | Cornell University | 3.1.2023 | Jan 2023 | Yes, and GMAT | | No |
| 13 | Northwestern University | 2.15.2023 | Feb 2023 | Yes | We cannot guarantee that seats in the incoming class will still be available by the time we receive the CAS report with your February LSAT score. | No |
| 14 | Georgetown University | 3.1.2023 | Jan 2023 | Yes, and GMAT | Will continue to accept applications and scores after March 1, but very late in the process. Due to our rolling admissions process, we strongly encourage you to take the GMAT, GRE, or LSAT in, or prior to, September. We will still accept a later LSAT, GMAT, or GRE test, but please note that it is most advantageous to take an earlier test because of our rolling admissions process. | No |
| 15 | University of California, Los Angeles | 2.1.2023 | Jan 2023 | Yes | | No |
| 16 | Washington University, St. Louis | "We have rolling admissions. We don't have an application deadline." Strongly encourage students to apply as early as possible. | Jun 2023 | Yes | | "mid August" was deadline listed last cycle. |
| 17 | Boston University | 4.1.2023 | Jan 2023 | Yes | Can take a later LSAT but will be late and disadvantageous due to rolling admissions. | No |
| 17 | University of Texas-Austin | 3.1.2023 | Feb 2023 | Yes | | No |
| 17 | Vanderbilt University | 4.1.2023 | Apr 2023 | No | Latest advisable is Feb..Can still take April but will be at disadvantage. | No |
| 20 | University of Southern California (Gould) | 4.1.2023 | Feb 2023 | Yes | | No |
| 21 | University of Florida (Levin) | 7.15.2023 | Jun 2023 | Yes | | Did not list accepting GRE last cycle. |
| 21 | University of Minnesota | 6.1.2023 | Apr 2023 | No | Our deadline for the J.D. application is June 1st and it looks like the last LSAT exam prior to the deadline is in April. However, I always encourage applicants if they can to submit their application as early as they can, especially in the springtime as class seats fill up quickly. | No |
| 23 | Brigham Young University (Clark) | 5.1.2023 | Apr 2023 | Yes | "We will accept the April LSAT and nothing past that." | Deadline last cycle was 6/30/2022 |
| 23 | University of North Carolina-Chapel Hill | 5.1.2023 | Apr 2023 | No | For the fall application cycle we will accept LSAT scores up until April. We will not accept June scores for fall admission. | Feb was listed as latest LSAT last cycle. |
| 25 | George Washington University | 3.1.2023 | Apr 2023 - as long as you are registered for the test by the time you submit your apps. | Yes, and GMAT | *GRE and GMAT scores will be accepted only in lieu of the LSAT. "Please note tha this applies only to applicants who have not taken and do not intend to take the LSAT. | GRE and GMAT scores were part of a pilot program last cycle. Now standard. Feb LSAT was the latest LSAT accepted last cycle. |
| 25 | University of Alabama | 8.1.2023 | Jun 2023 | Yes | The Law School recommends that you take the LSAT early (in or prior to September). However, the Law School will consider the June LSAT for fall admission. | Did not provide a deadline last cycle, just said rolling admissions with no deadline. |
| 25 | University of Notre Dame | 3.15.2023 | Feb 2023 | Yes | The Admissions Committee may consider the results of the LSATs or GREs taken on or after March 1, 2023 for applicants who are offered a place on the waitlist. | No |
| 28 | University of Iowa | 5.1.2023 | Jun 2023 | No | Students can take the exam no later than June of the year for which they are applying. Please keep in mind that Iowa is on a rolling admission so early applications are highly encouraged. *Dec is the latest recommended LSAT. | No |
| 29 | University of Georgia | 6.1.2023 | Jun 2023 | No | They recommend that you take the LSAT sooner than June but will still accept June scores. | GRE not listed as accepted last cycle |
| 30 | Arizona State University (O'Connor) | 8.1.2023 | Jun 2023 | No | *Encouraged to take an earlier LSAT for rolling admissions. | No |
| 30 | Emory University | 3.1.2023 | Feb 2023 | No | Applications received after March 1 will be reviewed on a space-available basis." "We will accept the Feb score, but the applicant must submit the rest of the application before the Mar 1 deadline. | No |
| 30 | George Mason University | 4.30.2023 | Apr 2023 | Yes | | No |
| 30 | Ohio State University (Moritz) | 3.1.2023 | *See note | No | *There is no preferred testing date for the LSAT. however, we may not accept scores from the July examination in the same year you wish to enroll. Applications submitted after March 31 will be reviewed on a rolling basis until the office determines applications will no longer be accepted. | No |
| 30 | William and Mary | 3.1.2023 | Feb 2023 | No | Subsequent exams may be submitted as supplemental material in support of your application. | Last LSAT was Jan last cycle. |
| 35 | University of Illinois-Urbana Champaign | 3.15.2023 | Feb 2023 | No | Feb LSAT takers are applying near the end of the cycle - seating will be limited. | GRE listed as option last cycle |
| 35 | Washington and Lee University | 7.1.2023 | Apr 2023 | Yes | Applications are reviewed on a rolling basis. Applications that are complete on or before March 1 are guaranteed a decision no later than March 31. Please know that an applicant whose file is complete after March 1 cannot be guaranteed a decision by a particular date. If you're taking a later LSAT, we encourage you to submit an application now, and begin sending along the various constituent parts of your Credential Assembly Service (CAS) report to the LSAC. Simply provide us, in Section 6 of our application, the date of your future LSAT administration, and we will hold your file for review until we receive scores from that test. | Latest LSAT was listed as June. |
| 37 | Boston College | 3.31.2023 | Feb 2023 | Yes | | March was latest LSAT last cycle |
| 37 | Fordham University | 3.15.2023 | Feb 2023 | Yes | encourage students to take an earlier exam. Will only accept GRE score if no LSAT on file. | Latest LSAT listed last cycle was March. Did not accept the GRE last cycle. |
| 37 | University of California - Davis | 6.1.2023 | Feb 2023 | Yes | Preferred deadline is March 15. "Those applying after the preferred deadline are advised that very few offers of admission are extended after early May, and generally only if a committed student drops from class. "Recommend that first time takers sit for the test no later than Jan. | No |
| 37 | University of California - Irvine | 3.31.2023 (priority) | Apr 2023 | Yes | Priority (preferred deadline) is 3/31/23, then rolling basis. | Latest acceptable LSAT last cycle was March. Priority deadline last cycle was 3/15 |
| 37 | University of Utah (Quinney) | 3.10.2023 | Feb 2023 | No | Completed applications received after 3/10 will be reviewed if seats remain available. | No |
| 37 | Wake Forest University | 3.1.2023 | Feb 2023 | Yes | Applications must be submitted by 3/1, complete by 4/1. | No |
| 43 | Indiana University - Bloomington (Maurer) | 7.15.2023 | Jun 2023 | Yes | June LSAT is not recommended as it's very late. | No |
| 43 | University of Wisconsin - Madison | 4.3.2023 | Feb 2023 | No | Applicants are strongly encouraged to take an earlier LSAT. If you are taking an April or later LSAT, can email admissions and let them know that you are taking a later test, and they may hold your app. | Application deadline was listed as 4/1 last cycle. |
| 45 | University of Arizona (Rogers) | 7.15.2023 | Jun 2023 | Yes | First seat deposit deadline is in April, so rec taking LSAT earlier than June to secure spot. | No |
| 46 | Texas A&M | 5.31.2023 | Apr 2023 | Yes | Applicants are encouraged to submit their applications early in the admissions cycle. While the final deadline is May 31, 2023, the Law School will probably reach its capacity before that date. Once capacity is reached, the committee will continue to evaluate applications through the published deadline; however, the chances of gaining admission or a scholarship offer are greatly diminished. Will not consider a GRE score if you have an LSAT score on file. | No |
| 47 | Florida State University | 7.31.2023 | Jun 2023 | Yes | | No |
| 47 | University of Maryland (Carey) | 8.1.2023 | See note | Yes | The application priority deadline is April 1, 2023. However, so long as enrollment considerations allow, we will continue to accept completed applications until August 1, 2023. Couldn't get a firm answer on when the last LSAT that they would accept, but they did reiterate that the priority deadline was 4/1/2023 and that this should be kept in mind. | Last LSAT accepted last cycle was listed as June |
| 49 | University of Colorado - Boulder | 4.1.2023 | Feb 2023 | No | | Latest test last cycle was the March LSAT (no March administration this year). |
| 49 | University of Washington | 3.15.2023 | Jan 2023 | No | "These (application) deadlines are non-negotiable." | Change in application date flexibility. The last LSAT score accepted was April last cycle. |
| 51 | University of California (Hastings) | 4.15.2023 | Apr 2023 | Yes | | The application deadline was previously 4/1. |
| 52 | Pepperdine University (Caruso) | 4.1.2023 | Mar 2023 | Yes | | No |
| 52 | University of Richmond | See note | Jun 2023 | Yes | Rolling Basis after March 1 (priority deadline) until class is full, no firm deadline | Will accept GRE scores as of this cycle. Latest LSAT listed last cycle was March. |
| 52 | Yeshiva University (Cordozo) | See note | Apr 2023 | Yes | "Our application priority deadline for the May term is March 15 and for the fall term April 1. While we encourage you to complete and submit your application as soon as possible, we will continue to accept applications on a rolling basis after the priority deadlines. While we don't recommend it, under some circumstances we could accept a June test date." | No |
| 55 | Tulane University | 3.1.2023 | Jun 2023 | No | Although Tulane Law does not have a strict deadline, applicants are encouraged to submit applications between September 15 and March 1. Later applications will be considered, but space and scholarship opportunities may be limited. Applicants planning to submit LSAT scores from a test administration date later than March 1 are encouraged to submit their application prior to receipt of their score. | No |
| 56 | University of Tennessee - Knoxville | See note | N/A see notes | No | We do rolling admissions, so we accept applications up until the following year's orientation day. We don't have any restrictions on when people take the LSAT, but we won't review their application until we receive that score. | Application Deadline updated- Had issues getting a clear answer on this. It was 8/15 last year. |
| 56 | Villanova University | 7.1.2023 | Jun 2022 | No | | No |
| 58 | Baylor University | 3.15.2023 | Feb 2023 | No | We will continue to accept applications after the posted deadlines. However, we recommend submitting your application as early as possible, and applications received after the deadlines will be reviewed after all timely applications have been reviewed. | Prev app deadline was Feb. 17, and the latest LSAT was Jan |
| 58 | Pennsylvania State University - Dickinson | 6.30.2023 | Jun 2022 | Yes | | No |
| 58 | Southern Methodist University (Dedman) | 3.1.2023 | Feb 2023 | Yes | The regular application decision deadline is March 1, but late applications will be considered on a space-available basis. | No |
| 58 | University of Houston | 3.15.2023 | Mar 2023 | Yes | LSAT scores submitted after the March administration will be considered on a space-available basis. | No |
| 58 | Wayne State University | 8.1.2023 | Jun 2023 | No | | Application deadline was listed as 6/2022 last cycle. |
| 63 | Temple University (Beasley) | 3.1.2023 | Apr 2023 | Yes | Will accept April 2023 LSAT scores as long as application is transmitted by the March 1 application deadline. | Now accepts GRE scores |
| 64 | Pennsylvania State University - University Park | 3.31.2023 | Apr 2023 | Yes | Applicants seeking a J.D. in combination with a degree in a different discipline may apply with a GMAT- with stipulations. | Now accepts GMAT scores (with stipulations). The last LSAT score was listed as March last cycle. |
| 64 | University of Connecticut | 4.30.2023 | Jun 2023 | No | | Latest LSAT listed last cycle was April |
| 64 | University of San Diego | 6.1.2023 | Jun 2023 | Yes | | Application deadline was listed as 7/31 last cycle. |
| 67 | Loyola Marymount University | 2.1.2023 | Mar 2023 | Yes | The March 2023 LSAT is the last score we will accept for the Full-Time Day program. The June 2023 LSAT is the last score we will accept for the JD Evening Program. The final GRE test we will accept for the JD Day program is February 24, 2023. The final GRE test we will accept for the JD Evening program is June 8, 2023. We strongly encourage prospective students to sit for either exam by January 2023. We use a rolling admission policy and seats in the class are offered as early as December. | Now accepting GRE scores. |
| 67 | University of Kansas | 6.1.2023 | Jun 2023 | Yes | Priority deadline is March 15, then rolling until Jun 1. Rec that students apply much sooner than June 1 for there to be spaces in the class. | Now accepting GRE scores, and the deadline was 4/15 last cycle. Last cycle had the June LSAT as the latest they would accept. |
| 67 | University of Kentucky | 4.15.2023 | Apr 2023 | No | Priority deadline is March 15, then rolling until Jun 1. Rec that students apply much sooner than June 1 for there to be spaces in the class. | Now accepting GRE scores, and the deadline was 4/15 last cycle. Last cycle had the June LSAT as the latest they would accept. |
| 67 | University of Missouri | 3.15.2023 | Feb 2023 | No | Ideally, we rec that you take the June or Oct test the year before you wish to start law school so that you have a score early enough to apply early in our rolling admissions cycle. | No |
| 67 | University of Nevada Las Vegas | 3.15.2023 | Feb 2023 | Yes | If you apply after March 15, your application will still be given full consideration for admission, but it will be as our class size and space permits. It may also result in an extended decision date. Will accept GRE/ GMAT- with stipulations (only if dual degree student) | Will accept GRE/ GMAT if dual degree student. The last LSAT taken changed from Jan to Feb. |
| 67 | University of Oregon | See note | See note | No | We strongly encourage applicants to apply by our priority deadline of March 1st. We accept applications throughout the year, and offer admission on a rolling basis, so long as space remains in the incoming class. However, applications received in late spring or summer may be at a disadvantage in the admissions process. Admission decisions are historically made between January and May. Our priority deadline is March 1st, so we recommend applicants have all application components, including their LSAT score, submitted by that date. | June was latest LSAT listed last cycle |
| 73 | American University (Washington) | 3.1.2023 | Feb 2023 | Yes | We recommend that fall 2023 applicants take the LSAT no later than February. However, we will consider spring and summer LSAT test scores on a case-by-case basis. | No |
| 73 | Loyola University - Chicago | 5.1.2023 | Apr 2023 | No | Priority deadline is March 1 | The last LSAT accepted date was changed from March to April. |
| 73 | Northeastern University | 3.1.2023 | Feb 2023 | No | Applications submitted after March 1 will continue to be reviewed on a space-available basis. | No |
| 73 | Seton Hall University | Priority deadline is April 1, then rolling until classes filled. No firm deadline. | Jun 2023 | Yes | Applications/Deposits Frequently Accepted After This (4/1) Date (so you may contact the our office to see if we are still accepting applications). Rec taking an earlier LSAT than June to be considered since spaces may be full. | Feb was the latest LSAT listed last cycle. |
| 73 | University of Miami | 7.31.2023 | Jun 2023 | Yes | Will accept GRE - with stipulations | No |
| 78 | Case Western Reserve University | 4.1.2023 | See note | Yes | If you choose to apply with the LSAT, we recommend that you take the LSAT in the summer or fall before applying to law school. If you choose to apply with the GRE, we must receive your GRE score from the ETS by our application deadline (it takes 14 days for ETS to transmit the GRE score). | The last LSAT accepted date was changed to be non-specific. |
| 78 | Drexel University (Kline) | 4.1.2023 | Mar 2023 | Yes | We recommend submitting your application by 3/1. Cannot guarantee that applications will be read past 4/1. | No |
| 78 | Georgia State University | 6.1.2023 | Jun 2023 | No | | No |
| 78 | University of Denver (Sturm) | End of July (see note) | Jun 2023 | No | March 1 is the suggested deadline for submission, but applications are reviewed for admission on a rolling basis until the application closes at the end of July. The timing of when you submit a complete application will impact your admissions decision. Applying earlier in the application cycle (November/December) is strongly encouraged. Taking an earlier LSAT is also strongly encouraged to as seats may be full by the Jun LSAT. | No |
| 78 | University of Nebraska - Lincoln | 3.1.2023 | Jan 2023 | No | | No |
| 78 | University of Pittsburgh | 5.1.2023 | Feb 2023 | See note | The University of Pittsburgh School of Law will accept the Graduate Records Examination (GRE) in lieu of the LSAT for those students who are enrolled in, admitted to, or intend to enroll in another Graduate Program at the University of Pittsburgh (Joint Degree). | No |
| 84 | St. John's University | 3.1.2023 | Feb 2023 | Yes | Will accept students after Mar 15 deadline if seats still available.If you are taking the GRE, we recommend that you take it prior to March 1 so that your score will be reported prior to our March 15 application priority date. | Yes, the application deadline moved from 3/1 to 3/15. |
| 84 | University of South Carolina | See note | Jun 2023 | Yes | Our priority deadline for complete applications is March 1, but we welcome applications through early summer. Spring LSAT recommended. We will accept a score from the summer tests, but we will have begun to fill places in the entering class by the time your LSAT score is received, which can affect your chances of admission. | No |
| 86 | Rutgers University | 7.1.2023 | Jun 2023 | No | Though you can apply to law school before taking the LSAT, your file cannot be reviewed by the Admissions Committee until it is complete, which includes the LSAT score. | Yes, the application deadline changed from 5/15, and last cycle the last LSAT listed was March. |
| 86 | University of Arkansas - Fayetteville | 4.1.2023 | Feb 2023 | No | No application fee. | No |
| 88 | Lewis & Clark College (Northwestern) | See note | Rec taking no later than Jan (but sounds like they will accept later scores if space available). | No | Applications received by March 15 are given priority consideration, although we will continue to accept applications after this date. Applicants will receive full consideration for admission, as well as merit scholarship consideration. | No |
| 88 | University of Cincinnati | 7.15.2023 | Jun 2023 | No | Recommended Application Deadline: March 15, 2023. April, May and June LSAT scores will also be considered, provided that the application is submitted prior to the recommended deadline of March 15. | No |
| 88 | University of Oklahoma | See note | Jun 2023 | Yes | Our deadline for priority processing is March 15th, but we will still take applications after that date. We strongly encourage you to apply as early as possible for a better chance of not only being admitted but receiving scholarships. | No |
| 91 | Michigan State University | 4.30.2023 | Apr 2023 | No | Can apply earlier with no LSAT score, but app will not be reviewed until you have a score on file. | No |
| 91 | University of Hawaii - Manoa (Richardson) | 4.1.2023 | Feb 2023 | Yes | | Latest LSAT last cycle was March (no March administration this cycle). |
| 91 | University of New Mexico | 7.15.2023 | Jun 2023 | No | | N/A |
| 94 | Illinois Institute of Technology (Chicago-Kent) | 7.15.2023 | Apr 2023 | No | | N/A |
| 94 | The Catholic University of America | See note | Jun 2023 | No | The preferred deadline for applicants to both day and evening divisions is March 15. First year students begin their studies only in the fall semester. | N/A |
| 94 | University at Buffalo - SUNY | See note | Jun 2023 | Yes | While we suggest applying by March 1, we welcome applications beyond this date and accept the June LSAT. Applicants opting to take the GRE in lieu of the LSAT should sit for the test no later than June 15 of the year they plan to matriculate. | No |
| 94 | University of Louisville (Brandeis) | 4.15.2023 | Feb 2023 | No | Will accept late applications until July 15th w/June 2022 LSAT. Ineligible for merit based scholarships. | If the future LSAT score release selection falls after the regular application deadline of April 15, the application will not be considered to have met the regular deadline. |
| 98 | Brooklyn Law School | See note | Feb 2023 | Yes | There is no regular review deadline, but applications completed by February 1 are given first consideration. There does not need to be a reportable LSAT or GRE score at the time of application submission, but that no admission decision can be made until one is received. Because of their rolling admissions, applicants should plan for the February LSAT to be their last, although there is a possibility they will still be making offers to applicants who are submitting results from the April administration | No |
| 98 | Florida International University | 6.30.2023 | Jun 2023 | Yes | | No |
| 98 | Howard University | 2.28.2023 | Feb 2023 (if scores back by 2/28 deadline) | No (see note) | Encouraged to submit app as early as possible. Currently, Howard Law does not accept the GRE as a substitute for the LSAT. However, if you hvae a GRE score availale that you would like considered, you may forward the score to Howard. | No |
| 98 | Indiana University - Indianapolis (McKinney) | 6.1.2023 | Apr 2023 | Yes | | N/A |
| 98 | Saint Louis University | See note | July 2023 | No | The Admissions Committee begins the review process in November and the first round of decisions will be made by December 1. We admit on a rolling basis, so it is to your advantage to complete your application as soon as possible. | Clarification that they take up to the July 2023 LSAT. |