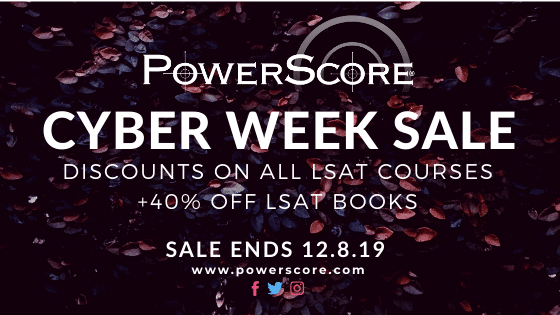 This year we are going big so that students can save big during our full CYBER WEEK SALE! With all of the changes to the LSAT taking place over the past year, it has become even more essential for students to find the prep method fit that specifically works best for them. With that in mind, we've discounted all of our LSAT prep courses and most of our LSAT publications so that students can save no matter what their study style and timeline preferences are! Even if you're not taking the test until later in 2020 or beyond, we recommend taking advantage of these prices now because they rarely go for this low. Prices are valid through 12/8/19.
LSAT Courses
Our most comprehensive method of LSAT prep. Whether you prefer the familiar setting of an in-person classroom course, the comfort of a fully interactive live online classroom that you can attend from home, or the flexibility of immediate access to recorded video lessons that you can make your way through at your own pace: our main LSAT course is the industry gold standard no matter which style you choose. With any of these options you'll be learning from a 170+ scoring instructor, have access to 45 official LSAC-licensed full digital tests to practice and emulate your test day experience with, and an abundance of out of class help to guide you even while you prepare on your own.
Looking for something different?
Self-Study Books
If you are putting together your own study plan, our LSAT self-study books are a foundational building block for anyone prepping on their own. Not only have we discounted each of our renowned LSAT Bibles, but you can also save on our Workbooks and book sets as well. Free shipping to US and Canada is included on all self-study book orders!
* Previously existing discount codes cannot be applied to Cyber Week sale prices.
Our #1 goal is to help you eliminate all test anxiety and guide you towards your goal score, so reach out if you have any questions about any of these study options or about the LSAT prep process in general and we'll be happy to help!  lsat@powerscore.com | 1-800-545-1750.